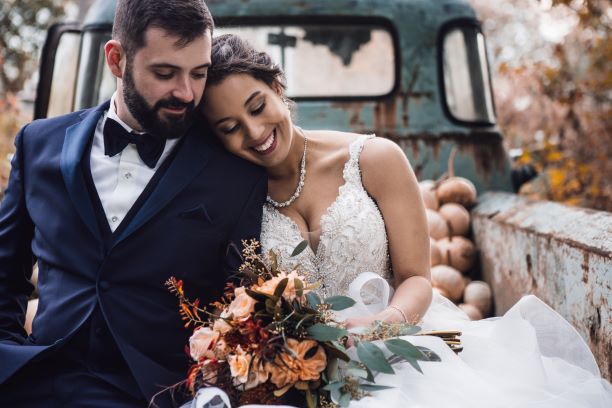 If you're attending a spring wedding – as a guest or the blushing bride or groom – you'll naturally want to look your best in the photos.
If you're worried about teeth stains, gaps or other issues with your smile that you think are letting you down, talk to your dentist to find out which cosmetic treatments you could benefit from so you can smile confidently for the camera!
Some cosmetic dental treatments are versatile and can address more than one issue with teeth, so you should consider all aspects of your smile that you might want to change when designing your personal smile makeover.
Stained or discoloured teeth
Teeth stains can be the result of ageing, food and drink with strong pigments (such as coffee, tea and red wine), smoking or other causes. If you want to brighten the appearance of your teeth, the most common treatments are:
Teeth whitening – applying a bleaching gel to your teeth, at home or in the dental clinic, to lighten teeth by a number of shades. Teeth bleaching doesn't work on all types of discolouration.
Dental veneers – replacing the front surface of your teeth with thin veneers made from porcelain or composite resin, selected in the shade you want. This involves removing a thin layer of tooth enamel.
Crooked or misshapen teeth
If your teeth aren't straight or are unevenly shaped, there could be several ways to change their appearance:
Tooth contouring – removing or replacing enamel to reshape a tooth.
Dental crowns – a cap placed over the top of a tooth to improve its appearance or function.
Dental veneers – veneers can straighten teeth that are slightly crooked and close minor gaps.
Orthodontics – if your teeth are more severely crooked, you may need to have braces or aligners. However, this is a long-term treatment than can sometimes take a year or more.
Chipped teeth
If you've been in an accident or bitten something hard and chipped your tooth, your dentist could restore its original shape by placing a crown, veneer or a large filling. This depends on how much of the tooth's structure remains and its position in your mouth.
Missing teeth
If you have one or more teeth missing, a gap is the least of the problems. Gaps between teeth can cause the teeth on either side to become crooked over time, so it's recommended to replace the tooth. Options include:
Dental bridge – an artificial tooth supported by the teeth on either side of the gap. Placing a bridge may also involve fitting crowns over the adjacent teeth.
Dental implants – an implant supports the jaw and is longer lasting than other tooth replacement options, but it also costs more.
Dentures – partial dentures can replace a single tooth or several missing teeth in a row, designed to look just like natural teeth.
Looking for a cosmetic dentist in Brisbane?
To find out more about your treatment options or start designing your new smile makeover, book a consultation at your local Swish Dental clinic in Everton Park or Mitchelton.
Call our Everton Park branch on (07) 3355 1422 or our Mitchelton branch on (07) 3354 3341.
References
Better Health Channel. Cosmetic dentistry [Online] 2018 [Accessed August 2019] Available from: https://www.betterhealth.vic.gov.au/health/conditionsandtreatments/cosmetic-dentistry