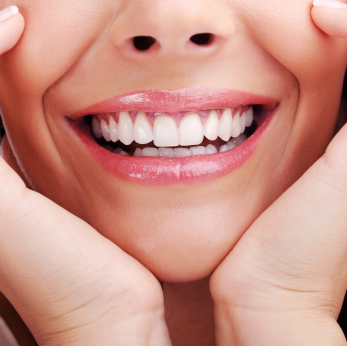 A dental crown can be used to restore a chipped or cracked tooth, to strengthen a weakened tooth or to modify a tooth's appearance.
If you choose to have a crown placed, your dentist will discuss the different materials and options available, which may include CEREC same day crowns.
When are crowns needed?
Dental crowns are long-lasting restorations that are custom-made to restore the appearance, strength and function of the underlying tooth. Stronger than fillings, they're usually recommended if a tooth is more severely damaged or needs to be strengthened after being weakened by tooth decay, an injury or a dental treatment such as a root canal.
Depending on the material you choose, your dentist may be able to match the colour of your crown to your tooth shade for a natural finish. If your local dental clinic is equipped with CEREC technology, it may be possible to design, manufacture and place your new crown in a single appointment.
Traditional crowns
Standard dental crowns can be made from a range of materials, which will affect their appearance, strength, price and how long they last. The options include:
Porcelain (ceramic) crowns: the most natural-looking option, porcelain can be chosen in a shade that matches your other teeth and resists stains. These crowns are better suited to the visible front teeth.
Metal crowns: made from gold or other strong metals, these crowns tend to be the strongest and longest-lasting, but they're less popular for their less natural appearance. Mainly used for the chewing teeth that are put under greater pressure.
Porcelain fused to metal (PFM) crowns: offering the strength of metal with an outer porcelain layer, these look more natural than metallic crowns, but the metal can sometimes show through when used for the front teeth.
If you choose to have a crown, your dentist will need to reduce the size of the tooth first and to take an impression that can be used to design your custom restoration. This will be made in an off-site dental laboratory and can take a week or longer to arrive. You'll be fitted with a temporary crown to wear until your next visit, when your permanent crown will be checked and bonded into place.
Same day crowns
If your dentist offers same day crowns, these may be designed and manufactured using the same system and may be completed in a single visit. CEREC crowns also require less preparation of the tooth surface beforehand.
When your dentist has taken an impression of your tooth, they'll use the CEREC CAD/CAM (computer-aided design and manufacture) system to create your custom crown on the computer. This design will be sent to an on-site milling machine where your crown will be produced from a block of ceramic that matches your natural tooth colour.
Once the crown is ready, your dentist can make any finishing touches needed, check that it's a good fit and bond it into place, usually on the same day.
Same day crowns are not suitable for everyone, however. Your dentist will let you know if CEREC crowns are an option during your consultation, when they'll also explain the costs and any possible risks involved so you can make a fully informed decision.
Do you have a chipped or broken tooth?
If you need to see a dentist in Brisbane, contact our friendly team at Swish Dental. We can arrange an appointment at a time that's good for you to discuss traditional or CEREC crowns, inlays and onlays and other options for restoring damaged or worn teeth.
Call our Everton Park clinic on (07) 3355 1422 or our Mitchelton branch on (07) 3354 3341.